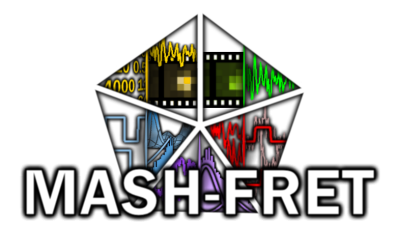 What is MASH-FRET?
MASH-FRET is a Matlab-based software package for the analysis of single-molecule FRET videos and trajectories. The framework encompasses the entire workflow from localizing single molecule on videos to characterizing molecule dynamics.
First visit? Learn how to use MASH-FRET with Getting started.
Download
Clone or download MASH-FRET into a directory of your choice.
git clone https://github.com/RNA-FRETools/MASH-FRET.git

For more information about system requirements, please refer to System requirements.
Updates
MASH-FRET will constantly develop. If you are interested in updates and future release notes, please subscribe to our email list https://www.chem.uzh.ch/en/sigel/software/MASH.html .
Getting involved
Please report any bugs or feature requests through the issue tracker on Github.
If you have any questions, do not hesitate to contact us at rnafretools@chem.uzh.ch.
Citing MASH-FRET
The functionalities of MASH-FRET have been described in several articles. If you use MASH-FRET in your work, please refer to the respective publication listed here.
About
MASH-FRET was developed by Mélodie C.A.S. Hadzic in collaboration with Danny Kowerko, Sebastian L.B. König and Richard Börner in the group of Prof. Roland Sigel at the University of Zurich and is currently maintained by Mélodie C.A.S. Hadzic, Fabio D. Steffen and Richard Börner.
MASH-FRET is licensed under the GNU General Public License (GPLv3)